Tag: workplace
When workplace alliances change or disappoint, it's important to maintain your focus on work.
An unrequited friend crush at work with an unhappy ending.
Workplace friendships often require boundaries.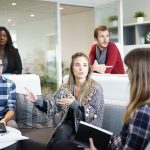 Breakups of workplace friendships can be particularly challenging to get over because you're likely to come face-to-face on a regular basis.
I'm finding it difficult to let go of an ex-friend. We went to school together and, by pure luck, ended up working in the same company.
Things were awesome at first. We would cry, laugh and do a lot of things together. We ended up sharing a place, which I now think was a bad move for our friendship.
Right now, only we know about it, but it's bound to spread. I am not planning to say anything, but she likely will. Plus, it will eventually become apparent to others that we aren't friends.
Working with friends can be complicated but if you have a problem with a work colleague, try to stay calm and make the best of your job.
QUESTION Hi Irene, I have a co-worker who is married who came from a central office to a satellite office where I work. His co-workers from the central office made undermining jokes about him. I'm beginning to understand why. He boasts about an association he's in and tells stories about what he's doing. He visits […]
Margaret Doria and Anita Dente have taught at the same two Catholic high schools in Brooklyn, at the same time, for 45 years. At first blush, they seem like the proverbial "odd couple"—an Oscar and Felix with different styles and views of the world. A collegial relationship at first developed into an extraordinary friendship. Fast […]