Tag: toxic
A discordant lifelong friendship extending over decades between two "third-age" friends falls apart and one woman wants out.
Check out some of the signs that suggest a friendship is no longer worth keeping on Bustle.
A woman in her 50's feels sucked into a drama at her gym.
A college student feels insecure about her friendship and wonders whether she is a "toxic" friend.
Reporter Linda Lombroso of the Journal News (a Gannett paper) interviewed The Friendship Doctor about how to deal with a toxic friend.
A 17-year-old with problems has a friend with another set of problems and wonders if she should cut off the relationship.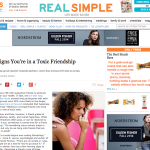 In Real Simple Magazine, Samantha Zabell writes about the signs of a toxic friendships.
Linda Melone writes offer four strategies to effectively fix a toxic friendship.