Tag: telephone
A student is mortified that her friend overheard her say something negative about her.
Be honest. Do you cringe when the phone rings? Check Caller ID and get annoyed when someone, even your BFF, calls when you're in the middle of something? Prefer talking when YOU want to rather than when SHE wants to? Do you send a quick text or email with the hopes of avoiding a lengthy […]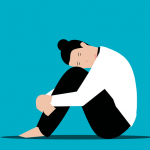 Losing friends can be particularly difficult for introverts because we don't surround ourselves with people.