Tag: personality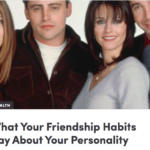 Writer Laura Donovan explores the relationship between friendship and personality in an article she recently wrote for the website ATTN:
A retired paraeducator shares the lessons she learned from a boy with Asperger's about friendship and being different.
Like most friendships, those between introverts and extroverts require communication and compromise.  My friend and colleague, Sophia Dembling, is a widely published author who pens a popular blog on Psychology Today called The Introvert's Corner (which I highly recommend). Based in Texas, Sophia is the author of a forthcoming book called, The Introvert's Way: Living a Quiet Life […]
It can be frustrating when a friend doesn't trust you but the ability to trust may be deeply ingrained in personality.
A needy, symbiotic relationship usually comes to an end when one person changes. QUESTION Hi Irene, I have been friends with Jade for eight years and now I'm starting to question the nature of our relationship. The thing is I've never really liked her, and I know that she doesn't really care for […]
Sometimes it may be kinder and easier to drift apart QUESTION Hi Irene, I've been reading your blog after googling to find out if anyone else had experienced similar issues to me. After recently spending some time away with a close friend, I realize I don't like many aspects of her personality. She […]
Some people ask so many questions that they make us feel violated. QUESTION Hi, I have a friend who constantly asks where I'm going, what I'm doing, and who I'm with, etc. She is a great friend otherwise, but I feel like I'm being interrogated! If I say I'm busy or don't want to go […]