Tag: parenting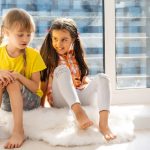 Finding ways to handle the "bad friend" dilemma can be challenging but there are more options when your children are young.
A mom wonders how to help her son deal with being left out.

Journalist Molly Lopez asked three experts about parenting shy kids in a recent article in Highlights Magazine.
When a kid breaks ups up with a close friend, not only is it tough on the child but it's tough on the parent watching it happen.
Worried about your child's imaginary friend? Psychologist and author Susan Newman, PhD offers advice and reassurance to worried parents.
How a mom should help address her 8-year-old daughter's friendship problems depends on the situation.
When friends are in turmoil, they may snap at those who offer advice—even good friends.
The daughter can't keep friends because they wind up losing respecting for her.
The poster isn't upset about her two friends who have found each other but is sick of listening to the poacher who feels the need to constantly remind her.