Tag: kids
When a friend really disappoints or let you down, it can be a friendship killer. There's no way to forgive or forget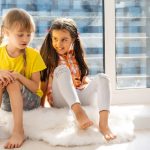 Finding ways to handle the "bad friend" dilemma can be challenging but there are more options when your children are young.
A teenager is involved in an awkward online friendship that is making her feel increasingly uncomfortable. She asks what to do.
Becoming a new mom dramatically changes someone's life and relationships—including her friendships.
A mom says her kids are disappointed when their friends are no-shows because they have unreliable moms.
When family friendships break up, children's friendships can often be a casualty.
I am writing for help with ending a friendship nicely. I met a friend at a playground three years ago and the friendship started because she was moving to the area and we both had sons the same age.
Problems with kids' friendships often spill over to their parents QUESTION Dear Irene, My son and another couple's son don't get along. The other kid has some issues and has tried to hurt my son either verbally or physically several times over the past few years (put his hands around his neck a few […]