Tag: friendship expert
Friendship and loss is a topic that's not often spoken about but it can be very painful to lose a long-time friend.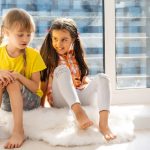 Finding ways to handle the "bad friend" dilemma can be challenging but there are more options when your children are young.
Having a clingy friend can be very stressful and demanding. You need to decide whether you want to keep the friendship on the same track or make some changes.  QUESTION Hi Irene, My clingy friend calls me too often, a minimum of ten times per day! I have done the whole "I'm busy, my grandson […]
Dr. Irene S. Levine was pleased to be invited to serve as an on-air friendship expert on the KPCC Southern California Public Radio Show "AirTalk."
In the (Utah) Deseret News, journalist Herb Scribner writes about how to handle conflicts with your spouse over friends.
Writer Katherine Schreiber spoke to experts seeking their advice about how to handle emotions when a friend breaks up with you
Journalist Pamela Redmond of AARP recently interviewed me for her article on how to get closer to the friends you already have.
Unemployment can wreak havoc on an individual's life and emotions. Journalist Amy Packham writes about the social challenges that often follow unemployment.