Tag: closure
What do you do when a close friend backs away from a friendship?
In Real Simple Magazine, journalist Valerie Frankel looks at the research behind four popular cliches people often hear after breakups.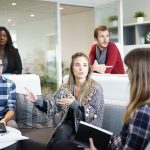 Breakups of workplace friendships can be particularly challenging to get over because you're likely to come face-to-face on a regular basis.
About two weeks ago, one of my closest friends and I had a massive argument. I don't know whether to even bother trying to sort out the problem or just move on already, and forget about it and forget about her.
QUESTION Dear Irene, A college friend named Leah recently dumped me. I graduated but she's still in her final year. We live three-hours apart but we've met up about a dozen times since graduation in May. The last few times, she was very distant and seemed to actively avoid talking or being with me (we […]
The Friendship Doctor was recently interviewed by Victoria Clayton-Alexander, editor of Exurb Magazine.
QUESTION Dear Irene: About 8 months ago, I had my heart broken by my best friend of three years. Liz and a guy I had been dating for a short time slept together after they had been drinking excessively. Liz and the guy, Dave, had been friends since high school and she was the one […]
QUESTION: Hi Irene, I have a much older friend than myself. She is old enough to be my Mum and I do think of her as a second Mum. We've been through a lot together, and she has fulfilled the gap of being my Mum. I have a family and husband myself but have not […]
About three months ago, Anna had met a new friend, "Lisa," and I felt replaced. Little by little, I felt pushed aside and believe that Lisa had put a rift in the friendship between Anna and me. All of the sudden, Anna and I spent less and less time together as she made more time for Lisa.