Tag: children
When a friend really disappoints or let you down, it can be a friendship killer. There's no way to forgive or forget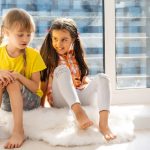 Finding ways to handle the "bad friend" dilemma can be challenging but there are more options when your children are young.
A teenager is involved in an awkward online friendship that is making her feel increasingly uncomfortable. She asks what to do.
In celebration of International Friendship Day, Disney distills some of the "behind-the-scenes" secrets that inspire long-lasting friendships. 
Two young friends find a third girl to be intrusive and clingy.
Moving? Moving expert Alexandra Wenzke offers tips for parents to help ease the transition for their kids after a move.
A young woman is embarrassed when she's asked to choose partner.
It's important to help your kids build the right kind of friendships with the right kinds of kids.