Tag: bridesmaid
Jillian Kramer writes on how to handle firing a bridesmaid.
Many of us might think that the dilemma of having too many friends—or too many bridesmaids—is an enviable one. But when you're choosing a bridal party, making choices among them can turn into a problem.
Wedding etiquette expert Sharon Naylor offers sage advice to a bride who feels left out when her bridesmaids become chummy with each other.
Writing for Glamour, journalist Jillian Kramer deals with the thorny issue of how to actually ask a bridesmaid to step down.
Jillian Kramer wrote an article for Brides Magazine on how to handle friends who are jealous of you getting engaged.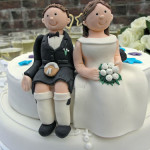 A shy young woman worries about having no close friends to ask as bridesmaids.
A bride-to-be feels senses her maid of honor doesn't seem happy for her.
A young woman feels left out when her husband was asked to be part of the wedding party and she wasn't.
Wedding expert Sharon Naylor offers some advice on friends and weddings.