Tag: apology
When a friend really disappoints or let you down, it can be a friendship killer. There's no way to forgive or forget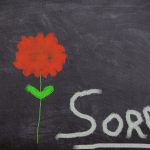 She's apologized to an unforgiving friend—and hasn't been forgiven. What should she do next? Here are some suggestions.
An old friend calls out of the blue and a young teen wonders whether she should jump back into the friendship.
What do you do when you make a mistake that you know has hurt a friend?
A young teen wants to be forgiven for a lie but isn't sure how to apologize.
When a friend gets diagnosed with a serious illness, it has a way of changing your outlook.
A woman makes a flippant remark to a friend. The wrong words slip out, she realizes she's made a mistake and apologizes. What more can she do?
What do you do when you embarrass yourself in front of a group of friends?