Tag: aging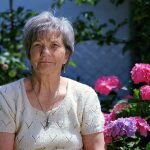 Each of my women friends has — or had — good qualities, but ultimately, the positive didn't outweigh the negative. Is my laziness in trying to make new (better, more compatible) friends an aging thing?
In case you missed the excellent article about elder friendships in today's New York Times, I think you'll want to read it.
On the Today Show, Joan Lunden reported on an experiment that suggests that close midlife friendships may help minimize anxiety and stress.
A 61-year-old woman has no friends and feels like a total failure
Peggy and Inez, a compelling video about two best friends at 90, offers testimony to the importance of late-life friendships.
I am a professional in my early sixties and plan to retire in three years when I am 65 year old. I am married to a very good man, have a grown up beautiful daughter yet I find myself feeling very lonely at times.
Recently, a reader named Peggy sent The Friendship Doctor an email that explains how she combats feelings of loneliness through some of her interests.
This was a great article by John Leland in the New York Times, in case you didn't see it. It tells the story of a group of women in their 70s and 80s who live on the same floor, in public housing, in an apartment building in the Washington Heights section of New York. They […]