Category: OTHER ADVICE
A young teen is following her friend around school, annoying her friend in the process.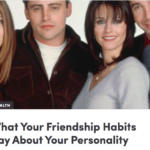 Writer Laura Donovan explores the relationship between friendship and personality in an article she recently wrote for the website ATTN:
The death of a close friend can be as painful as the death of a family member. And when the loss occurs right around the holidays, it can be especially hard.
When a woman gets engaged, an air of anticipation and excitement surrounds her—but a best friend may harbor envy or resentment.
The NMA Butterfly Project offers visual artists and designers a chance to use their talents to help others.
A workplace friendship that places work at risk needs to be reexamined.
What do you do when a friendship with a supervisor turns chilly?
A teen with a history of bullying is struggling to find friends. She thinks the ones she has are using her to be close to her attractive brother.
A young teen feels like a friendship failure because several friendships are falling apart.