Category: OTHER ADVICE
After the death of a partner, a man says his friends have scattered to the wind. He wonders how to respond.
Friendship and loss is a topic that's not often spoken about but it can be very painful to lose a long-time friend.
New research suggests that having someone listening to you is more than a feel-good experience; it may also be protective of brain health.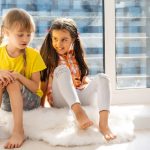 Finding ways to handle the "bad friend" dilemma can be challenging but there are more options when your children are young.
The volatile mix of parenting and COVID can creates challenges to moms with different values and sensibilities.
A teenager is involved in an awkward online friendship that is making her feel increasingly uncomfortable. She asks what to do.
A reader wonders how to respond to friends experiencing pandemic-related losses. QUESTION I have several friends right now who are going through VERY trying situations. In a few instances, I've sent people emails expressing my commiseration but I'm wondering what, if anything, to do next when I don't hear back from them. Do you think […]
A handy list of COVID Mental Health Resources to keep for yourself or someone you know. Don't hesitate to reach out if you need help.
A teen is having a hard time handling social distancing and wearing masks during this pandemic. Her mom asks for help .