Category: KEEPING FRIENDS
Her best friend's husband is a cheat and she can't stand him.
A reader considers herself a "People Person" but expresses her discomfort at always being the friend who invites and initiates.
With all the emphasis on female friendships —both in real life and in popular culture—male friendships are too often overlooked.
How do you handle the awkward situation of having a friend who earns more money than you do? Does this put the kibosh on a friendship?
A reader (Susan61) discusses how she made friends by overcoming her fear of doing things alone.
A friend asks how to respond to her friends living with depression who seem on-again, off-again.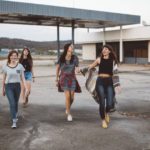 Writing for Bustle, Georgina Lawton lays out some practical rules for reviving a lapsed friendship.
In New York Magazine, journalist Cari Romm writes an article, entitled, "A Psychologist Explains How To Revive a Dead Friendship."