Category: How to break up
​​A woman doesn't know how to end a friendship with a neighbor she can't stand and worries about the anger likely to ensue.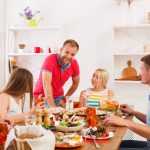 There's no easy way to end a long friendship. Although you've decided to set boundaries, it is unlikely that she will be able to change.
A reader considers herself a "People Person" but expresses her discomfort at always being the friend who invites and initiates.
How do you get a friend to accept that the friendship is over?
A woman asks how to end a long term friendship that has become frayed and unsatisfying.
In Elite Daily, Talia Koren poses the question of why women tend to be passive-aggressive in their friendships.
. A woman asks how to tone down an ambivalent friendship with another couple. She really isn't in to them anymore.
I am writing for help with ending a friendship nicely. I met a friend at a playground three years ago and the friendship started because she was moving to the area and we both had sons the same age.