Category: Apologies and forgiveness
When a friend really disappoints or let you down, it can be a friendship killer. There's no way to forgive or forget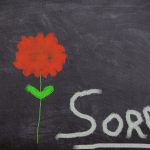 She's apologized to an unforgiving friend—and hasn't been forgiven. What should she do next? Here are some suggestions.
Having had a problem with trust in the past can make someone even more sensitive to a breech of trust.
Can you rebuild trust after a breakup? A woman feels she made a grave mistake in shutting out her friend and wonders how to make amends.
If someone has serious marital problems, friendships may fall by the wayside.
A friendship on life support may have only a slim chance of survival, especially if the friendship doesn't have a solid foundation or long history.
Whether a friendship can survive after a betrayal depends on whether the friend who was betrayed is able to forgive.
When friends we trust have a lapse in judgment, it can be difficult to get over.