Irene S. Levine, The Friendship Doctor
Irene S. Levine, Ph.D. is a psychologist, friendship expert, and award-winning freelance journalist and author who has written hundreds of articles—covering a variety of topics, including health, mental health, relationships, travel and lifestyles—that have appeared in leading national publications including Ladies Home Journal, Reader's Digest, Self, AARP, Better Homes & Gardens, Health, Prevention, The New York Times, The Los Angeles Times, Boston Globe, Chicago Tribune, and The Dallas Morning News. 
For more than five years, Dr. Levine penned a bi-monthly online mental health and careers column called Mind Matters for ScienceCareers Magazine, published by the American Association for the Advancement of Science.
As The Friendship Doctor, she has been a regular advice columnist and contributor to The Huffington Post and PsychologyToday.com. When she appeared on CBS Sunday Morning, national correspondent Rita Braver called her "The Dear Abby of Friendship."
Friendship Expert, Author and Spokesperson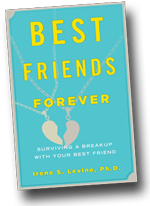 Dr. Levine's seminal book on female friendships—Best Friends Forever: Surviving a Breakup with Your Best Friend— was published by Overlook Press in September 2009, the timing of its release coinciding with Kappa Delta National Sorority's Women's Friendship Day.
Editors and journalists consider Dr. Levine the "go-to" expert on the topic of friendships. Her practical advice has appeared in hundreds of print and electronic publications. She has participated in national radio and blog tours, and has made television appearances, including The Today Show and CBS Sunday Morning.
When O, Oprah Magazine, recently compiled its 100 best pieces of advice from celebrities and experts, it solicited Dr. Levine's advice on how to end a friendship. In their respective categories, both her book and her blog were the top winners in the About.com Friendship Awards (then owned and sponsored by the New York Times). She has been interviewed and quoted by hundreds of newspapers and magazines across the globe including The Wall Street Journal, The New York Times, and the UK Sunday Times, and The Telegraph.
An engaging speaker, Dr. Levine has lectured locally, nationally, and internationally about mental illness and relationships. Since the publication of the book, she has made presentations about the dynamics of female friendships at libraries, book clubs, college and alumni groups, and women's and religious groups across the country. Active on social media, she has consulted with a number of large corporations interested in expanding their presence to women.
Psychologist and Relationship Expert
Before taking the plunge to become a full-time journalist and author, Dr. Levine spent nearly two decades in senior policy roles at the National Institute of Mental Health (NIMH) and the Center for Mental Health Services (CMHS) in Rockville, Maryland, where she was one of the chief architects of the NIMH Community Support Program and created and directed the NIMH Program on Homelessness and Mental Illness.
She was appointed the first Deputy Director of the Center for Mental Health Services (CMHS), part of the Substance Abuse and Mental Health Services Administration. For a period of ten years, she directed communications at the Nathan S. Kline Institute for Psychiatric Research. Dr. Levine co-authored Schizophrenia for Dummies (Wiley, October 2008) with her psychiatrist-husband, Jerome Levine, MD.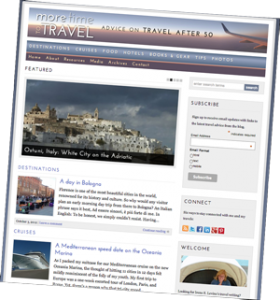 Travel Writer: A Parallel Path
In addition to writing about relationships, Dr. Levine is a prolific travel writer. One of only 700 members of the Society of American Travel Writers (the preeminent travel and tourism media association), she is also a member of the International Travel Writers Alliance and the Travel Blog Exchange (TBEX). A member also of the North American Travel Journalist Association (NATJA), she has received multiple Gold, Silver, and Bronze awards from the organization for print and online articles. She has also garnered a first-place award from the SATW Eastern Chapter for the best online article. She produces two niche blogs for luxury travelers over 50: More Time To Travel and GettingOnTravel.
Since 2018, she has been a regular contributor to the travel channel on Forbes.com.
Other Affiliations
For more than 15 years, Dr. Levine has held an academic appointment as a professor of psychiatry at the New York University School of Medicine. She is a long-time member of the American Psychological Association, American Society of Journalists and Authors, the Authors Guild, the Association for Health Care Journalists, and the National Association of Science Writers. Her doctorate in clinical psychology is from St. John's University in New York.
Her personal website is: www.irenelevine.com/ 
"For every two minutes of glamour, there are eight hours of hard work."  —Jessica Savitch