Archive for January, 2017
A woman incurs the wrath of her friend's husband and seeks advice.
Thinking of making New Year's resolutions? You might also want to examine and renew your friendships.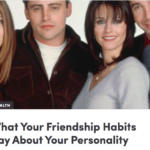 Writer Laura Donovan explores the relationship between friendship and personality in an article she recently wrote for the website ATTN:
Whether you are in your 20s, 30s or beyond, anytime after we leave the sandbox, making new friends always feels a little bit awkward.
An old friend calls out of the blue and a young teen wonders whether she should jump back into the friendship.
If you're without any friends because you don't feel friend-worthy, you may need to work on yourself first.