Archive for October, 2015
The gay friend asks whether she can preserve the friendship.
A husband feels caught in the middle between his wife and a close friend.
Lauren Lyons Cole writes about best friends who by virtue of their lifestyles wind up at opposite ends of the pay scale.
Living far away can pose challenges to a friendship.
A mom worries because her 13-year-old can't make and keep friends.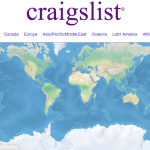 In this guest post, an anonymous reader talks about her experience seeking out platonic friendships on Craigslist.
Two families don't like each other but one keeps up the charade of a "friendship."
Coupled with high expectations, the stresses of traveling with a friend can tax even close relationships.